Hello Densil,
Nice to see you back on the board. Great that you got the 2-valve TX working, and 25-W is quite impressive.

I am a bit concerned that you wrote:
> i only got two chokes so i missed the 3rd one as it doesnt really do anything

If you mean the choke that is connected to the antenna circuit then that is VERY important. It does not affect operation at all, BUT it is necessary for safety reasons. If the 1nf capacitor connected to the anode of the final stage should become leaky, or short-circuit, then it will put 250 Volts DC on your antenna, which could be a danger to you and anyone who comes in contact with it.

So please be careful.

Best regards from Harry - SM0VPO
_________________
(I will listen to 14.190MHz USB every Sunday afternoon 15:00 to 18:00 to mid July
)
Admin




Posts

: 365


Join date

: 2012-11-24


Age

: 65


Location

: Märsta, Sweden



Hi harry thank you for info. my 2-tube tx is working now and it needs to be tidied up a bit. I had to do a few mods cos i was using different tubes. I used your trick of connecting 2 transformers 240volts to 6-0-6 10A and put the 12vols sec 6+6v  into a 12volt sec of another tranformer and got more than 330volts after smmothing.
It drops to under 300volts and gets warm on full power and i got 25 watts from a pl519. thanks for the info.
i only got two chokes so i missed the 3rd one as it doesnt really do anything.
i also put a 100pf variable cap and 40t inductor in the crystal so I can pull it a LOT. its an old trick for rubber-banding crystals. the cheaper the better it works.

/Densil



Posts

: 15


Join date

: 2017-01-06



Hi Densil, I have not seen your text here for a few weeks. Hope you are ok?
Strange that you should ask that very question! Several other people have asked me questions about that project in the past three weeks, one of which is the same as your question (see below). Has it been re-published anywhere? Can you send me the link? I thought I gave all the info in the original project.
Σπηλιόπουλος Κώστας





Hi Harry,
Me and friend try to build your schematic 2 valve TX but we have some questions about it.First question is about 3 2.2Mh RF Chokes,what kind of ring we can use or can we replace them with another rf choke?If you have more details about schematic that you update it please send to us the denotes to start assemble soon.
Regards from Greece Kostas-Stavros/SY3AUB.
When I built that project I just put my hand in the junk box and took the first coils I had that were ready wound. They are rated at 2A and have 17+17 turns. They are designed for 50/60Hz mains "common-mode rejection". Frequency of operation is supposed to be 50Hz to 10kHz. I just put the two coils in series. Internally the coils look like those below.
The actual wire is about 0.3mm Diameter. According to the manufacturers specifications "Core material = ferrite".
If you are making a tuned circuit and need a specific inductance, and you need to calculate it, then yes, the ferrite material is important. Some ferrites are no good for VHF and UHF. But for 50Hz to 30MHz it makes no difference at all what ferrite you use. The only criterion is that is should be grey.
The number of turns should be about 5 turns to 200 (or more) turns since it is nothing more than a simple choke that needs to have a high impedance to RF in the range of 1.8Mhz to 30MHz. The more turns so the higher is the impedance. Mine is 17+17 turns (34 turns total, as in the pictures below). Former outside diameter can be from 5mm to 25mm, more if you have the space.
In other words, the specifications are:
- ferrite ring coil
- more than 5 turns (30 for good measure)
- MUST be a ferrite ring (not a rod)
The third coil (to the right) in the circuit is a DC-block(shunt). If the EL95 coupling capacitor (1000pf) becomes leaky then this inductor will short-circuit DC and prevent 250V DC getting to the antenna.
Have I answered your question(s)?
> sorry for the dumb questions.
There are no dumb questions.
Very best regards from Harry - SM0VPO
(Found these pictures on the web of a similar product)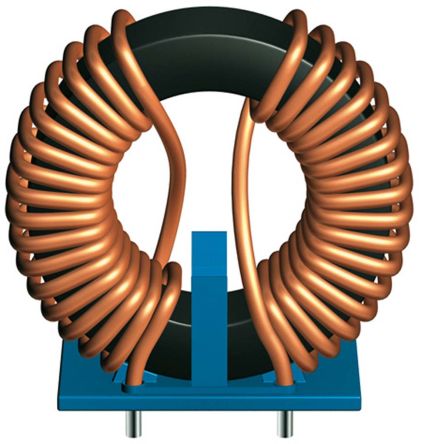 _________________
(I will listen to 14.190MHz USB every Sunday afternoon 15:00 to 18:00 to mid July
)
Admin




Posts

: 365


Join date

: 2012-11-24


Age

: 65


Location

: Märsta, Sweden



Hi harry. i saw your 2-tube tx and i think about building it. the project uses a 2.2mh choke. where can i get them?

does it have to be the same, can I use any other 2.2mh choke?
can I make one with a ferrite ring?
what grade of ferrite?
how accurate does the 2.2mh have to be?

sorry for the dumb questions.
/densil



Posts

: 15


Join date

: 2017-01-06



---
Permissions in this forum:
You
can
reply to topics in this forum